Search by:

Government and Public Buildings and Offices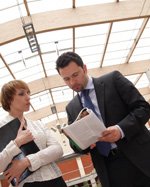 Air Technology Solutions has performed numerous services at all levels of government including; Federal, Provincial, Regional, and Municipal. Requested services vary depending on the requirements/scope of the project and can range from working in a waste water treatment facility to indoor air quality in a public office environment.

Typical areas of service include:
Procedures for Infection Control
Drinking Water Testing and Analysis
Radon
Project Management
Training Programs
Please Contact Us for further information.